NCIS: How Season 18's Finale Sets Up Season 19
In its Season 18 finale, NCIS looses an agent, gains another and prepares for life without Gibbs as it sets the stage for Season 19.
The season finale for NCIS dropped bombs, both literally and figuratively, on the future of the show. Season 18, Episode 16, "Rule 91" focuses on two different storylines: McGee, Torres and Bishop go after gunrunners while Gibbs and Marcie investigate a serial killer, and each story ends with a major revelation with huge ramifications.
The episode begins with the three agents in a shootout, and they only make it out because of Bishop's heroics and impressive marksmanship. Later, when the group tracks down the arms dealers' stash house, they find classified NSA documents, and after some investigating, Bishop is discovered to have leaked the files years ago. She is going to be charged with espionage, so she quits her job at NCIS and looks to move on as a disgraced agent who seems bound for jail-time.
At least, that is what Bishop needed everyone to believe. In reality, she was working with Ziva's friend and former CIA agent Odette Malone, and Bishop is about to go undercover as a spy. While she didn't actually leak sensitive NSA documents, she is still leaving NCIS. Torres takes the news particularly hard after their recent, budding romance. Although it is difficult, Bishop tells him, "If we worked regular 9-5 jobs, things could be different." Then, she kisses him and walks away. She is confident in her decision to start a new chapter in her life and living out Gibbs' newly explained rule 91: "When you decide to walk away, don't look back."
With Bishop moving on, there is an open desk in the famed orange bullpen, but the team likely already has its replacement. In the show's penultimate episode, titled "Blown Away," Special Agent Jessica Knight had just finished working a hostage situation when a bomb exploded. Her whole react team was killed, and she only survived because she had walked out of the room. She assisted McGee, Torres and Bishop in the investigation that found her supervising agent responsible for the bomb and she meshed well with the team.
Rumors were already circulating that she could be a possible replacement for Bishop before the finale, but they only grew in likelihood after "Rule 91." Under the guise of working on paperwork, Knight is still in the building and volunteers to help McGee and Torres when Bishop seemingly goes off the deep end. Once again, she works really well with the team, and helps determine what happened to Bishop. So, it seems very likely that Agents Knight will become a series regular in Season 19.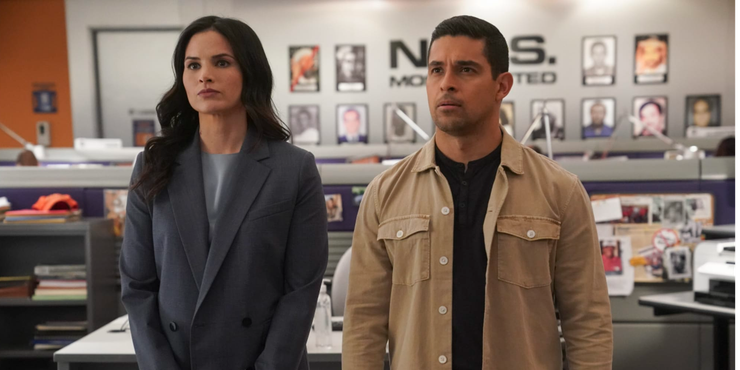 Then, of course, the show has to end of a cliffhanger. Since he's been suspended, Gibbs has been pretty busy saving Phineas, improving his house and building his boat. He also reveals that he has no intention of returning to NCIS, so he has busied himself with helping Marcie, his new reporter friend. Right now, they are investigating a string of murders that the police have written off. They believe that they have uncovered a serial killer, and they must be on the right track because, in "Rule 91," they find out that someone is listening in on their conversations and following them.
During the episode, Gibbs finishes his boat, and just in time too. He needs to go to the far side of a lake to search for a possible dumped body, courtesy of their serial killer. So, he loads up his stuff and sets sail on the boat's maiden voyage. Then the boat explodes, but luckily Gibbs doesn't die. After a few seconds of floating idly, he dives deep and stays hidden. He and Marcie must be getting close to finding their killer, if he was willing to try and kill Gibbs so blatantly.
With Bishop leaving, Agent Knight possibly joining the team and Gibbs doing his own thing, NCIS will look a bit different when it returns for Season 19 in the fall.
NCIS stars Mark Harmon, Sean Murray, Emily Wickersham, Wilmer Valderrama, Brian Dietzen, Diona Reasonover, Rocky Carroll, David McCallum. NCIS Season 19 will debut this Fall on CBS.
Share on Facebook